Shelf Clocks ~ Reproduction Clocks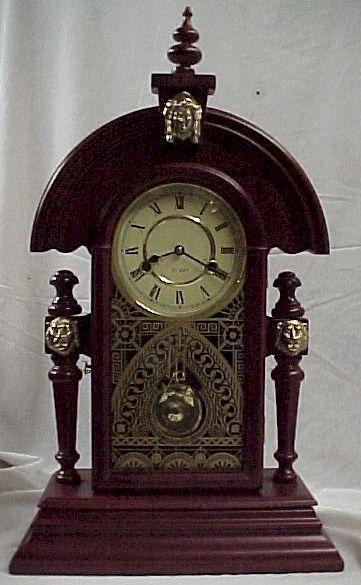 SOLD #1084
Reproduction, "King", a copy of the original clock, 31-day, time & strike, solid mahogany, brass trimmed dial & cast lady-head ornaments add to the authenticity.
$250
#1068
Reproduction, "The Monarch", an intricately detailed recreation of the Circa 1880 Ansonia Clock Co. original, crafted for today from solid mahogany, 31-day time & strike, carved details, unique urn finial, and cast brass ornaments, dial bezel, and pendulum, with silk-screened glass.
22.25" tall, 12.5" wide, 5.5" deep.
$265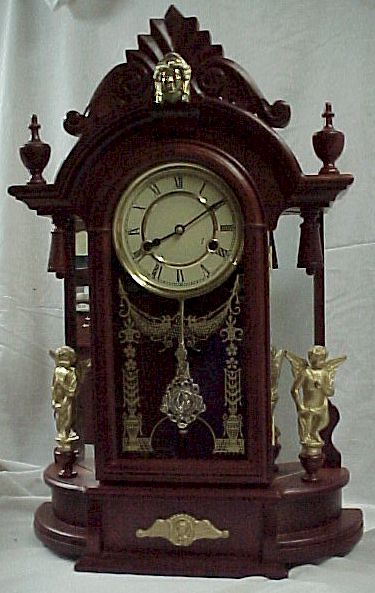 SOLD #1067
Reproduction, "Triumph" Mirror Side Clock, mahogany, 31-day, time & strike, brass-trimmed dial, cast brass pendulum, heavily carved top accented by cast metal ornaments, sculptured cupids adorn the side mirrors.
24.5" tall, 18" wide.
© Skip's Clock Shop, All Rights Reserved


Shop Address:

Skip's Clock Shop

,

818 Harvey Road

in

Randolph

,

VT

05061

| Mailing Address: Skip Sjobeck, 29 Elm Street, Randolph, VT 05060